DEMENTIA NEUROPATHOLOGIES: DESCRIPTION AND CHARACTERIZATION
Keywords:
Alzheimer dementia, vascular dementia, frontotemporal dementia, lewy dementia
Abstract
Neuropathology is the branch of neurology that studies diseases of the nervous system and their links with the entire physiology of the organism, including diseases of the nervous system and its reflexes. Neurological pathologies have high economic and social costs. Dementia is a syndrome that progresses with progressive and global memory decline associated with a deficit of functions with an intensity that brings important limitations in the individual's daily social or occupational performance. The number of new annual cases of dementia makes this syndrome more expensive than cancer and heart disease combined. The prevalence of dementia is increasing at an alarming rate as the world population in general is aging, and by 2050 it is estimated that 131 million people will have dementia. In view of the importance of studying neurological pathologies, especially dementias, the present study carried out a literature review on the main dementias, bringing data related to their pathogenesis, occurrence and molecular characterization.
Downloads
Download data is not yet available.
References
ARAÚJO, C. L. O.; NICOLI, J. S. Uma revisão bibliográfica das principais demências que acometem a população brasileira. Revista Kairós Gerontologia, Vol. 13, n. 1, 2010. pp. 231-44.
ARVANITAKIS, Z.; SHAH, R. C.; BENNET, D. A. Diagnosis and Management of Dementia: Review. JAMA - Journal of the American Medical Association, Vol. 322, 2019. pp 1589-1599
CARAMELLIA, P.; BARBOSA, M. T. Como diagnosticar as quatro causas mais frequentes de demência? Revista Brasileira de Psiquiatria. Vol. 24, Supl. 1, 2002. pp. 7-10
COUTO, M. J. C. Demência com Corpos de Lewy Aplicabilidade dos critérios de diagnóstico. Dissertação para obtenção do Grau de Mestre em Medicina. Covilhã, 2013. p. 29.
DE PAULA, V. J. R.; GUIMARÃES, F. M.; FORLENZA, O. Papel da proteína Tau na fisiopatologia da demência frontotemporal. Rev Psiq Clín., Vol, 36, n. 5, 2009. pp. 197-202
DUCHOUWNY, Aléxia Teles. Pelas veredas da etimologia. São Paulo, NEHILP / FFLCH / USP, 2016. 138f.
GONÇALVES, L. F.; OLIVEIRA, J. S.; GUIMARÃES, A. C. R. C.; GUIMARÃES, B. E. S. M.; SOARES, C. E. M.; GOMES, H. S.; QUEIROZ, T. C. C. A problemática da epidemia de demência vascular no Brasil: uma revisão bibliográfica. Brazilian Journal of health Review, Vol. 3, n. 5, 2020. pp. 15451-15459
KALARIA, R. N. The pathology and pathophysiology of vascular dementia. Neuropharmacology, Vol. 134, Part B, 2018. pp. 226-239
McKEITH, I. Dementia with Lewy bodies. Handbook of Clinical Neurology. Elsevier, Vol. 84, 2007.
MILLER, J. A.; GUILLOZET-BONGAARTS, A.; GIBBONS, L.; POSTUPNA, N.; RENZ, A.; BELLER, A. E.; SUNKIN, S. M.; et al. The neuropathology and cerebrovascular mechanisms of dementia. Journal Cereb Blood Flow Metab, Vol. 36, 2016. pp. 172-186
MOTT, R. T.; DICKSON, D. W.; TROJANOWSKI, J. Q.; ZHUKAREVA, V.; LEE, V. M.; FORMAN, M.; DEERLIN, V. V.; ERVIN, J. F.; WANG, D.; SCHMECHEL, D. E.; HULETTE, C. M. Neuropathologic, Biochemical, and Molecular Characterization of the Frontotemporal Dementias. Journal of Neuropathology & Experimental Neurology, Vol. 64, Issue 5, 2005. pp. 420-428
National Institute of Health – NIH (2002). Disease-specific estimates of direct and indirect costs of illness and NIH Support – NINDS. Disponível em: <http://www.ninds.nih.gov/news_and_events/congressional_testimony/2002_appropriation_ justification.htm>. Consulta em 13/06/2022
NOGUEIRA, D.; PEREIRA, L. Perspectivas da morte de acordo com a religiosidade: estudo comparativo. O portal dos psicólogos www.psicologia.com.pt., 2006. pp. 1-71.
O'NEILL, C.; NESTOR, T. Neurological system. In: COYNE, I.; NEILL, F; TIMMINS, F. Clinical Skills in Children's Nursing. Oxford Scholarship, 2010. PP. 259-285
RAZ, L.; KNOEFEL, J.; BHASKAR, K. The neuropathology and cerebrovascular mechanisms of dementia. Journal Cereb Blood Flow Metab, Vol. 36, 2016. pp. 172-86.
TEIXEIRA-JR, A. L.; SALGADO, J. V. Frontotemporal dementia: clinical and therapeutic features. Revista de Psiquiatria do Rio Grande do Sul, Vol. 28, n. 1, 2006. pp. 69-76
VENTURA, D. F. Um Retrato da Área de Neurociência e Comportamento no Brasil. Psicologia: Teoria e Pesquisa, vol. 26 n. especial, 2010. pp. 123-129
VERNON, A. C.; BALLARD, C.; MODO, M. Neuroimaging for Lewy body disease: Is the in vivo molecular imaging of α-synuclein neuropathology required and feasible? Brain Research Reviews, Vol. 65, Issue 1, 2010. pp. 28-55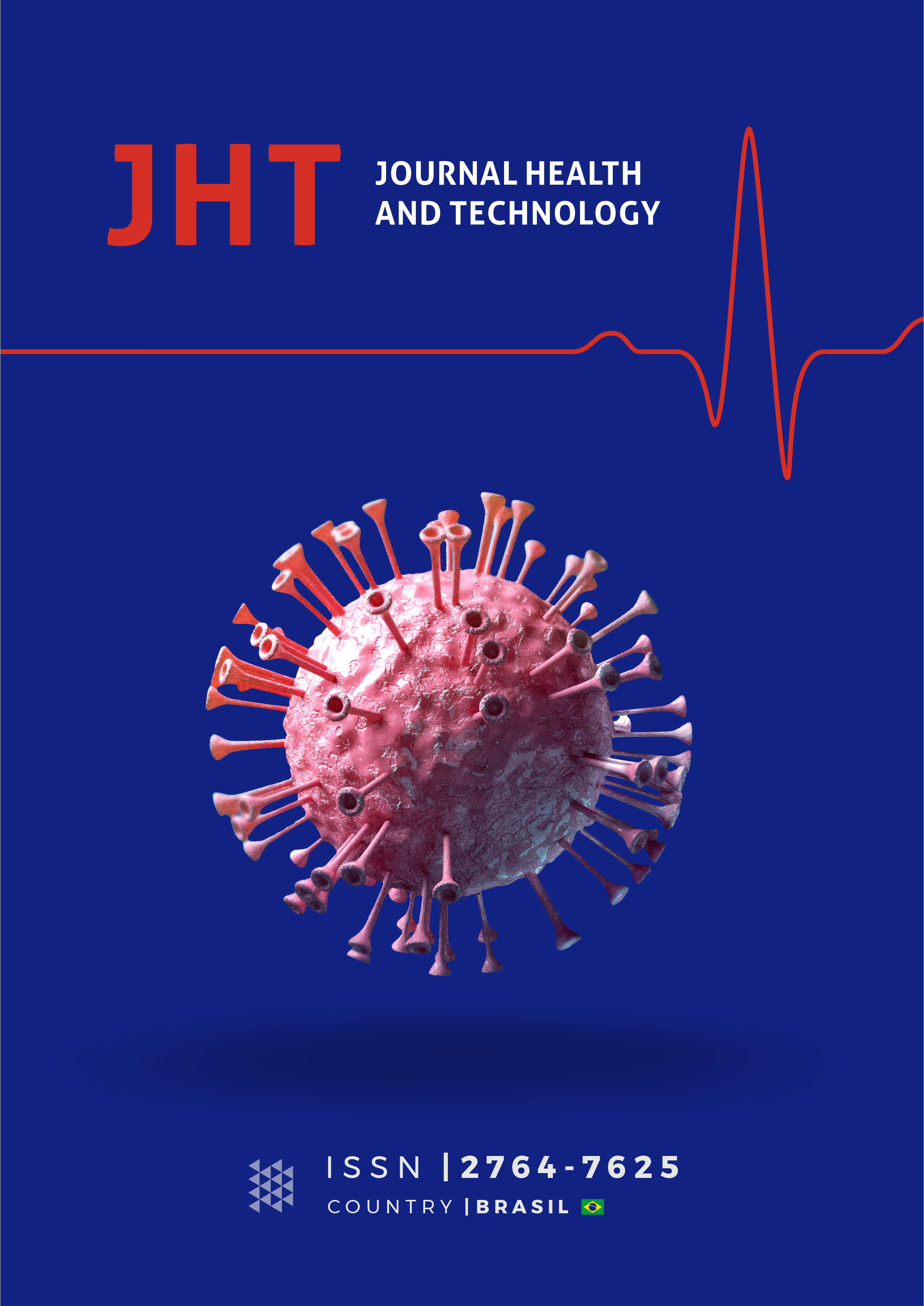 Downloads
How to Cite
de Abreu Agrela Rodrigues, F. (2022). DEMENTIA NEUROPATHOLOGIES: DESCRIPTION AND CHARACTERIZATION. Journal Health and Technology - JHT, 1(1), e118. https://doi.org/10.47820/jht.v1i1.8
License
Copyright (c) 2022 Journal Health and Technology - JHT
This work is licensed under a Creative Commons Attribution 4.0 International License.
The copyright of published articles belongs to JHT, and follows the Creative Commons standard (CC BY 4.0), allowing copying or reproduction, as long as you cite the source and respect the authors' rights and contain mention of them in the credits. All and any work published in the journal, its content is the responsibility of the authors, and RECIMA21 is only responsible for the dissemination vehicle, following national and international publication standards.