MONITORING AND EVALUATING ELECTRONIC HEALTH RECORDS SYSTEMS IN PUBLIC AND PRIVATE HOSPITALS IN THE ETHEKWINI AREA, KWAZULU NATAL, SOUTH AFRICA
Keywords:
Monitoring, Evaluation, Change management, EHR, public hospital, private hospital
Abstract
Monitoring and evaluating the electronic health records system is one of the most essential aspects of assessing the impact of utilising technology in the health sector. The study examined how hospitals monitored and evaluated EHR systems implementation and operation in KwaZulu Natal, South Africa. According to the National Digital Strategy for South Africa (2019-2024:26), there is no defined process detailing the monitoring and evaluation plan in public and private health; the monitoring and evaluation are still being developed, concentrating on actions required to meet strategic intervention milestones. The study adopted the Leading Change Model (LCM) in integration with the Technology Acceptance Model (TAM). The models were adopted in the study to assess monitoring and evaluation in the implementation and operation of electronic health records systems in the public and private hospitals in the eThekwini Area. The study utilized both the cross-sectional survey and the qualitative case study designs to compare public and private hospitals monitoring and evaluation of the implementation of electronic health records systems. The population for this study consists of three groups, or strata. The first group consists of record management personnel, patient administrators, and filing or ward clerks who deal mainly with hospital administration.  In terms of monitoring productivity, both hospitals monitored the efficiency of users in the utilisation of the system, but there was no proper strategy documented. Hospitals monitored the EHR systems based on what worked for them.
Downloads
Download data is not yet available.
References
Acquah-Swanzy, M., 2015. Evaluating electronic health record systems in Ghana: the case of Effia Nkwanta regional hospital (Master's thesis, UiT Norges arktiske universitet).
Antwi, M. and Kale, M., 2014. Change management in healthcare: literature review. Monieson Centre for Business Research in Healthcare, Queen's University, Ottawa, Ontario: Canadian Electronic Library. Retrieved 22 April 2023 from https://www.worldcat.org/title/change-management-in-healthcare-literature-review/oclc/905858789
Berhe, M., Tadesse, K., Berhe, G., & Gebretsadik, T. (2017). Evaluation of Electronic Medical Record Implementation from Users' Perspectives in Ayder Referral Hospital Ethiopia. J Health Med Informat, 8(249). DOI: https://doi.org/10.4172/2157-7420.1000249
Boonstra, A., Versluis, A., & Vos, J.F. (2014). Implementing electronic health records in hospitals: a systematic literature review. BMC health services research, 14(1). Retrieved October 18, 2022 from https://bmchealthservres.biomedcentral.com/track/pdf/10.1186/1472-6963-14-370. DOI: https://doi.org/10.1186/1472-6963-14-370
Cherry, B., & Carpenter, K. (2011). Evaluating the effectiveness of electronic medical records in a long-term care facility using process analysis. Journal of Healthcare Engineering, 2(1), 75-86. DOI: https://doi.org/10.1260/2040-2295.2.1.75
Department of Health (2012) eHealth Strategy South Africa. Retrieved March 15, 2023 from https://www.health-e.org.za/wp-content/uploads/2014/08/South-Africa-eHealth-Strategy-2012-2017
Eastern Cape Province in South Africa. Master's thesis. University of Fort Hare.
Erasmus, L.D. and Van Der Walt, T.I.A.A.N., 2015. Electronic medical records system user acceptance. IAMOT 2015 Conference Proceedings.
eThekwini Municipality Integrated Development Plan (2017). Retrieved March 14 2023 from https://www.durban.gov.za/pages/government/documents?d=Integrated%20Development%20Plans%20IDP%20-%20eThekwini%20Municipality
Falchook, A.D., Tracton, G., Stravers, L., Fleming, M., Reeve, B.B., Basch, E.M. and Chera, B.S.2015. Use of mobile device technology to collect patient-reported symptoms during radiotherapy for head and neck cancer: A prospective feasibility study. Journal of Critical Oncology, 22(13) suppl. Retrieved 30 March 30 2023). From https://ascopubs.org/doi/abs/10.1200/jco.2015.33.15_suppl.9599
Gabbay, J. and Le May, A., 2010. Practice-based evidence for healthcare: clinical mindlines. Routledge. DOI: https://doi.org/10.4324/9780203839973
Hazazi, A. and Wilson, A., 2021. Leveraging electronic health records to improve management of noncommunicable diseases at primary healthcare centres in Saudi Arabia: a qualitative study. BMC Family Practice, 22(1), p.106. DOI: https://doi.org/10.1186/s12875-021-01456-2
Health Design Authority (2012) Electronic Medical Record Evaluation Toolsand EMR Core Report. Authorised by the Victoria Government, Melbourne
https://www.studocu.com/en-gb/document/anglia-ruskin-university/leadership-and-change/change-management-in-healthcare-lit-review-ap-final/5205058
International Records Management Trust (IRMT). 2009. Understanding the context of electronic records management. London: International Records Management Trust.
Kalusopa, T. (2011). The Challenges of Utilising Information and Communication Technologies (ICT's) for the small-scale farmer in Zambian. IN: Library Tech, 23 (3) 414-424. DOI: https://doi.org/10.1108/07378830510621810
Katsande, T., 2014. Electronic medical records: an empirical study of South African health workers' attitudes, use and perceptions of impacts (Doctoral dissertation).
Katuu, S.A. (2015). Managing records in South African public health care institutions: A critical analysis, South Africa. DOI: https://doi.org/10.17234/INFUTURE.2015.16
Luthuli, L. P. (2017). Medical records management practices in public and private hospitals in Umhlathuze Area, South Africa
Malakoane, B., Heunis, J.C., Chikobvu, P., Kigozi, N.G. and Kruger, W.H., 2022. Improving public health sector service delivery in the Free State, South Africa: development of a provincial intervention model. BMC Health Services Research, 22(1), p.486. DOI: https://doi.org/10.1186/s12913-022-07777-x
Maphumulo, W.T. and Bhengu, B.R., 2019. Challenges of quality improvement in the healthcare of South Africa post-apartheid: A critical review. Curationis, 42(1), pp.1-9. DOI: https://doi.org/10.4102/curationis.v42i1.1901
Martin, W., & Voynov, S. (2014). Electronic health records and change management. International Journal of Computer and Information Technology, 3(3).
Marutha, N.S., & Ngulube, P. (2012). Electronic records management in the public health sector of the Limpopo province in South Africa. Journal of the South African Society of Archivists, 45, 39-67.
Moomba, K. (2017). Perceptions and experiences of health care workers on the use of electronic medical records at two health centres in Livingstone, Zambia. Retrieved September 21, 2022 from http://etd.uwc.ac.za/bitstream/handle/11394/5683/moomba_mcom_2017.pdf?sequence=1&isAllowed=y
Msomi, M. 2020. Change management in the implementation of electronic health records systems in public and private hospitals in the eThekwini area, South Africa. Masters thesis. University of Zululand.
National Department of Health. National digital health strategy 2019-2024. Retrieved April 20, 2023 from http://www.health.gov.za/index.php/2014-08-15-12-5426?download=3651: nationaldigital-health-strategy-for-south-africa-2019-2024
Pryor, J. and Crossouard, B., 2008. A socio‐cultural theorisation of formative assessment. Oxford review of Education, 34(1), pp.1-20. DOI: https://doi.org/10.1080/03054980701476386
Pyrene, M.B. 2015. The management of records for healthcare service delivery at the Victoria Public hospital in the
Rensburg, R. (2021). Healthcare in South Africa: how inequity is contributing to inefficiency. Wits University of Witwatersrand and Johannesburg. Retrieved June 12, 2023, from https://www.wits.ac.za/news/latest-news/opinion/2021/2021-07/healthcare-in-south-africa-how-inequity-is-contributing-to-inefficiency.html
Salleh, M.I.M., Abdullah, R. and Zakaria, N., 2021. Evaluating the effects of electronic health records system adoption on the performance of Malaysian health care providers. BMC medical informatics and decision making, 21(1), pp.1-13. DOI: https://doi.org/10.1186/s12911-021-01447-4
Thomas, S. (2016). An analysis of the adoption of electronic health records in primary healthcare, Gordon Institution of Business Science: University of Pretoria
Tubaishat, A., 2017. Evaluation of electronic health record implementation in hospitals. CIN: Computers, Informatics, Nursing, 35(7), pp.364-372. DOI: https://doi.org/10.1097/CIN.0000000000000328
World Health Organisation (2018). Regional Action Framework on Improving Hospital Planning and Management in the Western Pacific. Retrieved March 20, 2023 from https://iris.wpro.who.int/bitstream/handle/10665.1/14248/WPR-RC069-09-Hospital-Ann-2018-en.pdf
Zheng, K., Ratwani, R.M. and Adler-Milstein, J., 2020. Studying workflow and workarounds in electronic health record–supported work to improve health system performance. Annals of internal medicine, 172(11_Supplement), pp.S116-S122. DOI: https://doi.org/10.7326/M19-0871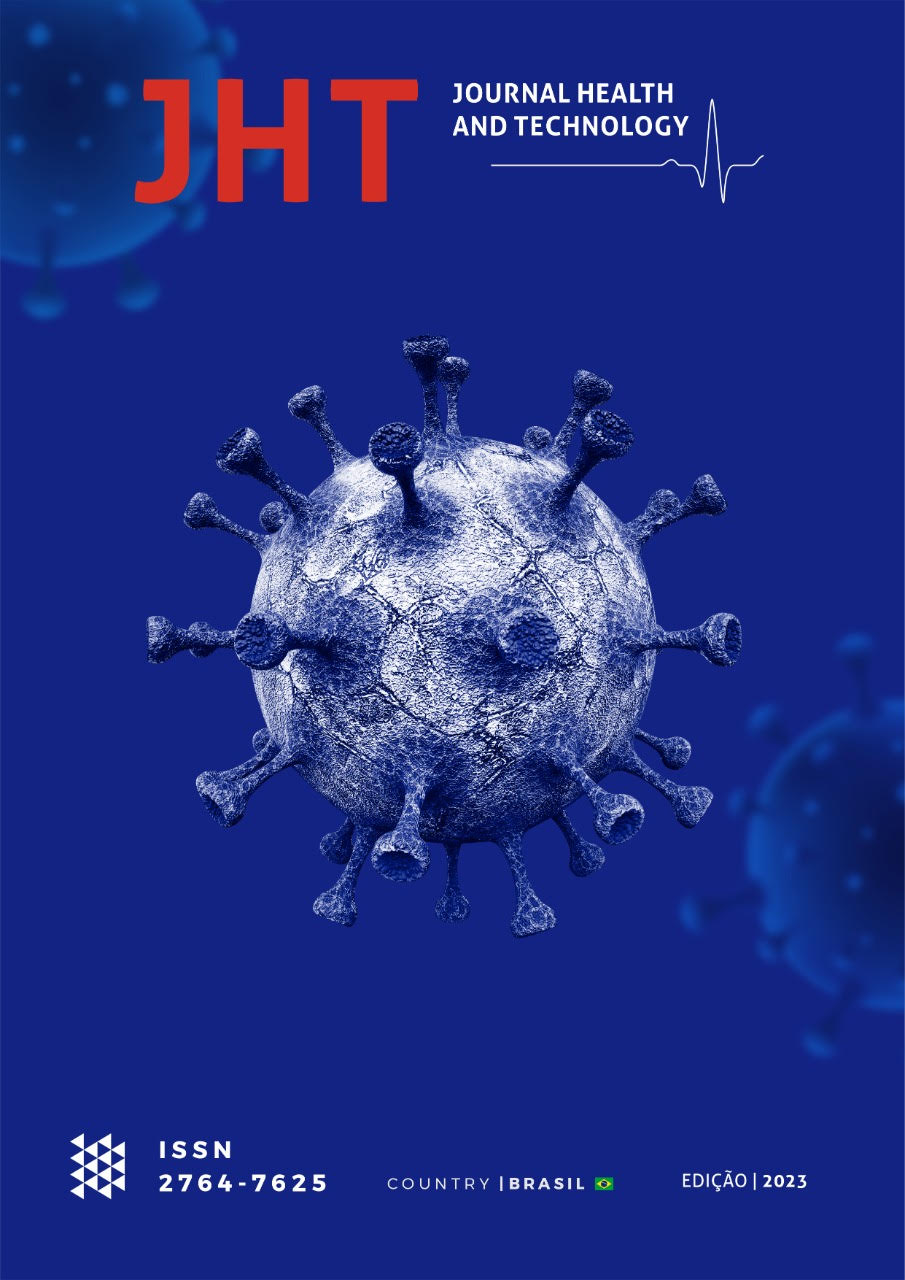 Downloads
How to Cite
Msomi, M. (2023). MONITORING AND EVALUATING ELECTRONIC HEALTH RECORDS SYSTEMS IN PUBLIC AND PRIVATE HOSPITALS IN THE ETHEKWINI AREA, KWAZULU NATAL, SOUTH AFRICA. Journal Health and Technology - JHT, 2(4), e2445. https://doi.org/10.47820/jht.v2i4.45
License
Copyright (c) 2023 Journal Health and Technology - JHT
This work is licensed under a Creative Commons Attribution 4.0 International License.
The copyright of published articles belongs to JHT, and follows the Creative Commons standard (CC BY 4.0), allowing copying or reproduction, as long as you cite the source and respect the authors' rights and contain mention of them in the credits. All and any work published in the journal, its content is the responsibility of the authors, and RECIMA21 is only responsible for the dissemination vehicle, following national and international publication standards.